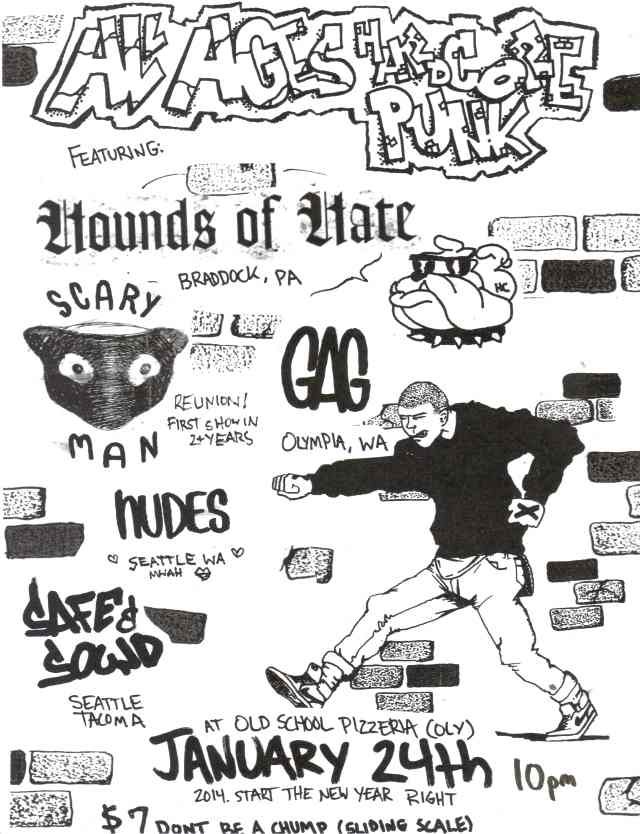 So a lot is going on in good old Olympia, New Year's show was amazing, our barrel in the backyard is still smoldering in the rain and we're still missing parts of the ceiling in the garage. Lots of releases to put up and tons of new sick stuff to look out for in Olympia:
A fest I'm doing in early August similar to
New Direction Fest
but not on as grand of a scale, marking the return of Brigada Roja and Tercer Mundo's first US show plus many many many more to be announced.
Hounds of Hate +
Scary Man
reunion on January 24th
Violent Reaction + The Flex in Olympia May 11th
Hysterics European Tour in May
Rain Fest 2014
Gag return to the East Coast yet to be determined (April roughly)
The Return of
GRIMACE
New Bands: CONVICT (Poison Idea meets late 80s NY), ODD MAN OUT (Straight Edge Hardcore), TURTLE NECK (77 Punk and GBH) and a project I'll be doing with Ralph from Chicago (6 songs so far) that is yet to be named plus a few more. Demo Tapes coming soon.