Poseidon - KGRG Set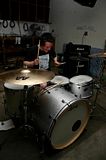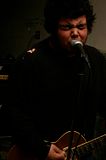 Poseidon and Sixes played on Dead Air radio KGRG together sometime this year, I honestly can't remember when. It was after tour while we were still brother bands before Poseidon's difficulties due to Mike's ear problems. The beginning of the set has some technical difficulties but the guitar comes through about midway through the song. There are a few unreleased tracks, most of the 7" songs and some tape songs. Poseidon's set was so fun. Dead Air is a college campus radio show that showcases local bands playing live on the air. During Poseidon's set we were running around, circle pitting, stage-diving on the couches, etc. Following we got kicked off campus for skateboarding. All in all an awesome day.
DEAD AIR
Wednesday Nights 7-10 PM
89.9 FM KGRG
www.kgrg.com to stream online
Contact:
KGRG ATTN: DEAD AIR
c/o Green River Community College
12401 SE 320th St.
Auburn WA 98092
http://www.myspace.com/dead_air
Download!