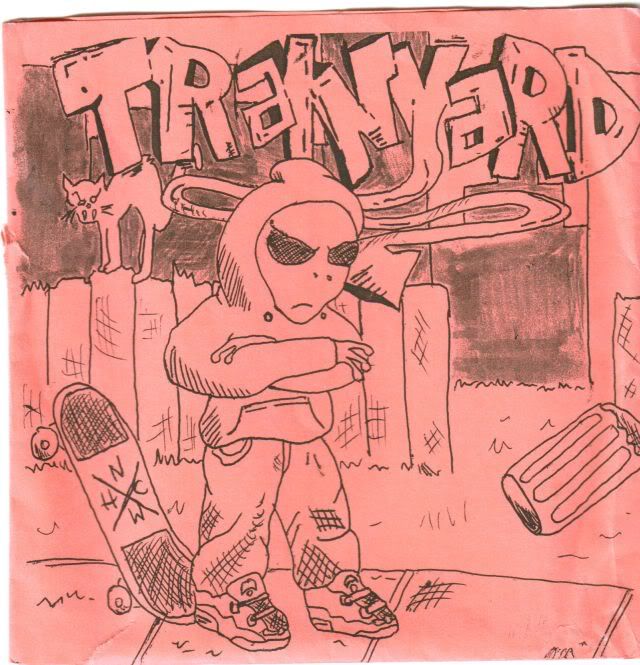 Here it is ignoble browsers, the Crème de la Crème of all that is music. Aside from just predicting the Obama election and oncoming alien invasion, Trainyard took the brunt of the Olympia hardcore scene in 2006. At a time when the scene consisted of basically Insubordinate, Nervosa and Sex Vid, Trainyard took the reigns and guided Olympia music in an unheard of direction. I know, shameless self-promotion, but it's fucking true. Up until that point I can't think of any Olympia band that has sounded anything like it. Some may say that it's a good thing nothing has sounded like it and that Trainyard is stupid, others may praise and enjoy it and still many are indifferent. The former of these are usually people who do not enjoy fun in any way shape or form.
Trainyard is easily the most fun band I've ever been in. The group of people is perfect and said party always has a great time together. At its humble beginnings Ian Bracken sought me out to jam because we both enjoyed late 80s NYHC and metal. Although we didn't have too much of a particular influence we were going for I seem to recall Ian often citing Merauder as an influence for some of his songs and I had pushed for a blend of a contemporary hardcore feel similar to No Warning. Fortunately it turned out sounding like neither, it took on a life all its own.
Originally Josh Simpson of Ancient Head infamy was going to sing but Ancient Head stole him from us thus spawning the Ancient Head Trainyard beef (which in actuality was never real except to one person who shall remain unnamed). Without a singer Ian recruited Adriana to the team seeing as she also shared similar musical influences. Ian soon decided to switch to doing vocals and his brother James of Insubordinate and Crazies fame hopped on guitar; a perfect candidate seeing as we practiced at his house. Conflicts of interest occurred when a myspace was created and James left the band and Bob took over temporarily. After a very long break the love of Trainyard's life Sean (of insubordinate fame) joined on the six string filling a void that was long expanding in the heart of the Trainyard collective. A Canadian tour and many shows are now beneath our belt despite the fact that we have never had merch and have never released anything aside from a demo. We've been what could be innacurately described as recording for a record for over a year. We'll see what happens with that.
As far as it goes now, we are back on the map. Our Osiris D3s are laced up and JNCO jeans frayed to perfection. Below is a link to the 2007 Demo and two tracks recorded for an Oly Comp that never got used. Without further ado, some words from Ian:
"Trainyard stands for many things. A lot of focus on the lyrics is related to being yourself and thinking independently from your peers, the media, and authority figures. Lyrics are about everything from politics, individuality, sexuality, drug culture, and authority figures. Trainyard is definitely not afraid to take an offensive or satirical stance at things that people hold very dear to their hearts."
Musically, Trainyard writes whatever we feel like writing, sometimes to a humorous extent. Rather than pigeonholing ourselves with a music writing hardcore formula, we pull from everyone's individual musical interests in the band creating a musical style that cannot be mimicked.
Lyrics
Download